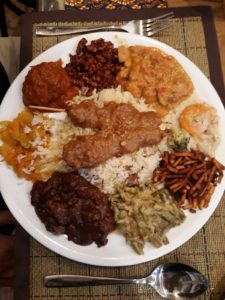 Buffet whenever you want it!
In addition to our weekly Saurday buffet you can also enjoy a full Indonesian Buffet at the DIFF in Ban Amphur on week days. For that you just need to bring some friends or family (minimum 10 pax) and announce your visit a few days before. That way the cooks from the DIFF can prepare the food for you in advance (remember, it takes many hours to slow-cook and simmer the dishes and then many hours to cool down slowly) using the typical 'TEMPO DULU' cooking method.
.
Or if you want to have a buffet in your own home or office, resort, bar, cafe, hotel, golf resort, just ask for the catering service. The DIFF has a lot of experience with catering buffets on all kind of different locations. Buffets are possible for any size of group, ranging from 10 to 200 persons.
The restaurant is succesfully building up it's name and fame for that special food originating in Indonesia (mainly from the Java island) and guests are coming back regularly now to enjoy the food. And very nice: many times they bring new friends… that shows trust and appreciation!
So if you want to try, taste and enjoy those typical Indonesian specialties, phone mobile nr:  0848 832 967  (Dutch and English).  Or send an email to:
.
ALTERNATIVE  FOR  BUFFET  IS:  'RICE TABLE'
A perfect alternative to get to know all this different and typical 'Indo food' is to order a 'Rice Table'. That way you get a variety of ingredients and taste on your plate. A little bit like a mini-buffet.
So bring friends and relatives and have some culinary fun! Please make your reservation in time, because there are only limited seats available.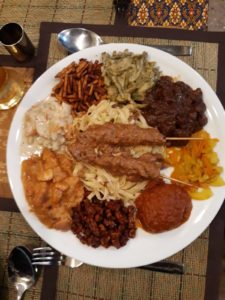 .
.
A photo impression of our buffet:
This is what you can expect (dishes can change or switch):
WARM DISHES:

Ajam Ketjap Djawa (chicken)
Babi Rendang (pork)
Ikan Bali (fish specialty)
Sajor Lodeh (vegetables)
Sambal Goreng Green Beans
Ajam Sate / Babi Sate
Nasi Putih / Nasi Goreng / Nasi Kuning
.
COLD DISHES:
Sambal Goreng Tempeh
Sambal Goreng Tempeh
Sambal Goreng Kentang
Krupuk / Emping Belinjo
Atjar Tjampoer / Atjar Kitimoen
Gado Gado (vegetables)
Sambal oelek / Sambal badjak
Pisang Goreng
.
Of course it is possible to serve your personal favourites when doing catering in your own location.
.
.
The DIFF is open daily from Monday till Saturday from 17.00 until 22.00 h and closed every Sunday, but please make your reservation in advance to prevent disappointments.
.