Owner Juliette Bergmann tells her story:
I like to introduce myself since we are running this little restaurant together with Poo, so my name is Juliette Bergmann, 50% indonesian, born out of a 100% Indo father and a Dutch mother.
My family was deported out of their property in '42 by the Japanese occupiers. Grandfather was sent to work on the construction of the infamous Japanese railway track, grandmother managed to escape and went back to the Netherlands.
To everyones surprise after several years, grandfather returned alive from Birma, making the family drama complete, because his wife already remarried (and conceived children with her new husband), presuming he died in the war and during the heavy work.
I still own some property in Indonesia (Djokja) that is being managed by the Chinese part of the family., so I am 50% Indonesian, including Poo and we are always experimenting Indo food, we hired a Thai cook to assist and learn and instruct him exactly how to do the cooking and preparations.
I am the most awarded female bodybuilder in the world (search my name on Google), and to date Chairman of the Board of IFBB (International Federation Body Building) with over 190 member countries and entered the Hall Of Fame since 2020.
Nutrition and alimentation is VERY important for this type of sport and all my life I followed diets based on Indonesian food. In the Netherlands at the Middelharnis marina my family and I ran an Indonesian restaurant for many years (restaurant 'Indonesia') in the little marina.
Cooking is my passion, so when we moved to Thailand it was almost inevitable to start a little restaurant here. Restaurant the DIFF is located only 50 meters away from my own fitness gym ('Team Better Bodies Gym') where we succesfully sell 'high proteine' food to our (mainly Thai) customers, who have no idea about healthy food and certainly know nothing about the Indonesian dishes… and they LOVE IT !
We produce thousands of meatballs per year, minimum 150 kg of chicken and pork per month, etc. all in Indonesian style. All this food is being produced by the kitchen of the DIFF restaurant.
The restaurant itself is extensively decorated with old photos from Surabaya, together with my family photos. Most of the year we serve a weekly Indonesian buffet on Fridays and Saturdays, that is being enjoyed by many returning guests from all nationalities.
We truly make all the food ourselves, we do NOT use chemical additives or genetically modified ingredients, nor any coloring or preservatives. We use only fresh and high quality ingredients and meat, we have friends in Bali who supply us regularly.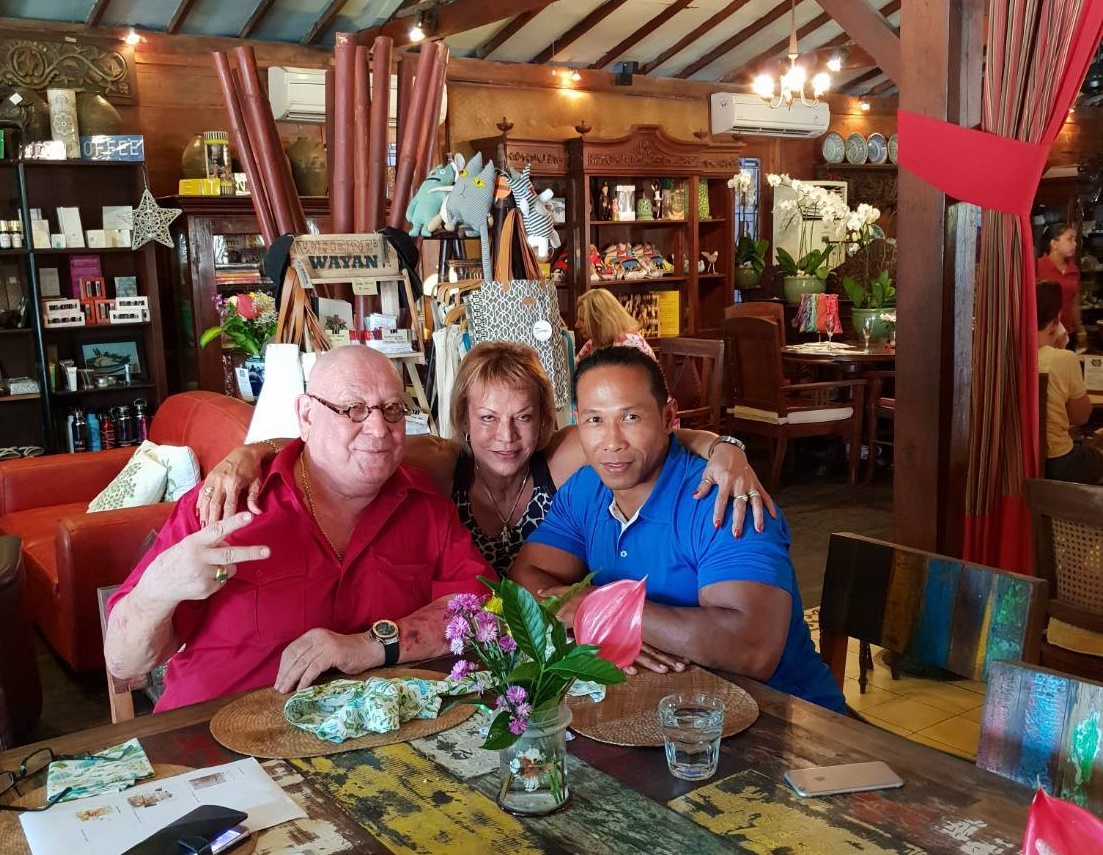 This is a picture from Jim and me and our friend Komang from Bali
With respect to the cooking methods we prepare and cook the so called 'Tempo Dulu' style food, like it was used in the Netherlands with our family recipes from colonial times and the same way as we did in our Dutch restaurant.
The 'Tempo Dulu' style fades away slowly, unfortunately even in Indonesia itself, the possible reason is the amount of work and time involved (many hours of preparing, simmering, cooling down under the right conditions, etc).
I hope to make clear that we run this little Indonesian restaurant because of my roots and lifelong affinity with Indonesia, in combination with my strive for healthy and natural food that provides enough proteine and almost no fat, our menu is based on nutrition for a healthy life style. When you combine it with some exercise, I believe we add a positive note to your life and well being, and let's not forget, with a great taste!
I hope you will take the effort to come and visit us and find out for yourself, try it and enjoy the taste.